If you're visiting ChuckTV.net, you probably consider yourself a diehard fan of Chuck and you probably know several other diehard fans. Or perhaps you're here because someone you love is a major Chuck fan and you're hoping we can give you a clue about what to gift them this year. Well whip out your credit cards, because we're gonna hook you up!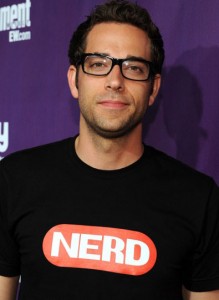 Viva La Nerdolution! – Chuck leading man Zachary Levi launched The Nerd Machine a few months ago and his NERD shirts are must haves for the diehard fan. Hoodies, caps, and more are coming soon, so wait if you want even more options but be sure to leave ample time for shipping so your nerd isn't left without a gift under the tree!
Comic Con or Bust – Comic Con is a mecca for geeks of all kinds and generally results in at least one "you had to be there!" Chuck moment. Although we don't know yet if Chuck will be at Comic Con – that's largely dependent on the season 5 pick up – tickets sell out quickly, so it's better to buy as early as possible. CCI has had some trouble with their ordering system, totally screwing with our gift guide plans, so until a date for ticket purchasing is announced, here's your chance to get creative with a gift certificate promising to take your geek to Comic Con 2011.
Ninja! – Chuck fans have a special fondness for ninjas. Our own Sarah Walker first appeared as a ninja (I know, but it was supposed to be her, and that's what counts) and more recently, ninjas attacked Chuck in Castle as part of his "training". We've even had the unanswerable ninjas vs. pirates question posited on the show. Geek out and give your special someone this Sneaky Like Ninja t-shirt paired with these ninja star push pins, as long as they promise to use their powers (and ninja stars) for good instead of evil.
Chucks for the Chuckster – Did you know that you can customize a pair of Converse All Stars (aka Chucks)? The Converse website has a nifty customization engine that lets you chose your style and colors of everything from the toe bumper to the canvas uppers to the laces. I'm partial to the Orange Orange-reminiscent light blue/orange combo myself. If you go that route, don't forget the official Orange Orange hoodie to complete the look!