Thanks to Chuck costume designer Robin Lewis-West and her generous gift of time answering our questions, I suspect that soon Chuck fans will be among the best dressed anywhere! This week we've got answers to some frequent Sarah Walker fashion questions, including an assist from the props department.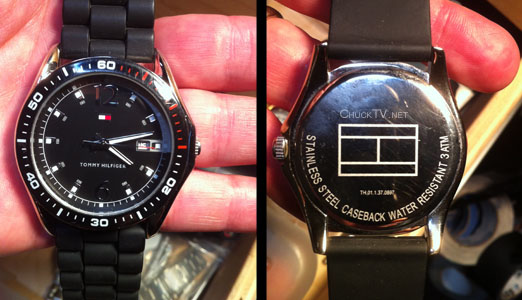 We've received several requests for information on the watch Sarah wears during missions. While Robin knew it was a Tommy Hilfiger brand, she called in the big guns to get the specifics: Scott from the props department not only gave us the details, he took close up photos of the front and back of the watch for us! It's a men's Tommy Hilfiger watch with a silicon band, analog dials, and date function. I'm not finding it for sale right now, but chances are you'll find one on eBay if you keep checking. The model number is TH.01.1.37.0897.
Another frequent question is who made Sarah's beautiful tan leather jacket with the asymmetrical zipper from "Chuck vs. the Honeymooners". Robin checked her wardrobe archives and reports that it's by Martin + Osa, from their Spring 2010 line. Unfortunately since it's about a year old now, it's no longer available at regular stores. Consignment stores and eBay are your best bets for tracking this down. Updated: In the comments, blueangel and Henk tracked down a similar version at Express. Good work!
And now for something that is still available! Sarah's spectacular one-shouldered dress from "Chuck vs. the Seduction Impossible" brought in several queries as well. Robin says it's Laundry by Shelli Segal, and it is currently available at Saks. The beaded jersey dress Sarah wore was the Hawaiian Sky version, but the dress is also available in Amethyst Purple.
Did you notice that this week's pieces were all worn by Sarah? She does have the best wardrobe, and we have a backlog of queries about her clothes, but surely you all are interested in pieces worn by other characters! Send in your questions and we'll get the answers for you.