Warner Bros. Home Entertainment has released the details for Chuck season 4 on DVD and Blu-ray. The series will go on sale Tuesday, September 6, 2011 (right after Labor Day weekend) October 11, 2011 (10 days before the season 5 premiere). If you pre-order from Amazon now, you're guaranteed to get the best price.
The collection includes all 24 episodes from season four plus never-before-seen bonus features, including two brand-new featurettes, webisodes, deleted scenes, and a gag reel. Chuck: The Complete Fourth Season is priced to own at $59.98 SRP on DVD and $69.97 SRP on Blu-ray.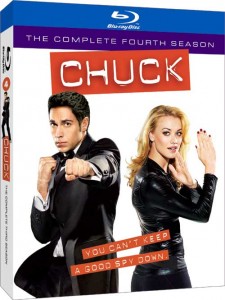 Operation Wedded Bliss: will Chuck and Sarah finally become Mr. and Mrs. Superspy? Season Four's 24 laugh- and action-filled episodes include the duo's romance from proposal to planning to the big day. Yes, Chuck's in love, but he has more than romance (and the Intersect) on his mind. His mom comes in from the cold, escaping the evil control of an international arms dealer to become part of the Nerd Herder-turned-spy's life – and making it even tougher for Chuck to keep his professional and personal worlds separate. On some days, Chuck outwits assassins and out-martial-arts hordes of black-clad bad guys. On others, he pursues Sarah and prepares to become a doting uncle. On most days, he does it all!
Chuck is co-created by Josh Schwartz ("The O.C.," "Gossip Girl") and Chris Fedak, and is executive produced by Schwartz, McG ("Charlie's Angels," "Terminator Salvation"), Fedak, Robert Duncan McNeill, and Nicholas Wootton. Chuck is produced by Fake Empire, and Wonderland Sound and Vision, in association with Warner Bros. Television.
BLU-RAY & DVD FEATURES
Chuck Versus Directing: Zachary Levi Takes Charge on Chuck Versus the Leftovers
Operation Gomez: Spying on the Cast: Joshua Gomez Shows Off His Newfound Spy Skills
Chuck Versus the Webisodes: The Chronicles of Jeff and Lester's Quest for an Elusive Video Game
Blu-ray Exclusive – The Top Secret Chuckapedia Interactive Experience
Declassified Scenes
Gag Reel
Thanks to Brandon for the head's up!