With the holidays upon us, it's time to celebrate and wow)) we're doing that by giving away more Chuck Comic Con goodies! This week's prize pack is designed to be either a reward for all of cheap female viagra your generosity to others this season or a gift for a Chuckster in your life. We're helpful that way.
Prize – Week 4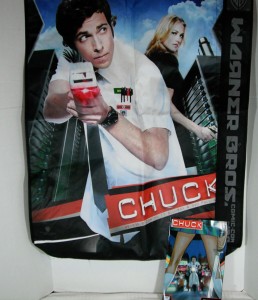 This prize pack consists of a Chuck comic book from Comic Con 2008 and a giant Chuck bag from Comic Con 2009 (the other side features The Big Bang Theory). The comic book is part of that [easyazon-link asin="1401223699″]6-issue set[/easyazon-link] that was printed between seasons 1 and 2; the giant (approximately 2′ x 3′) bag is one of the most coveted items at Comic Con every year.
Want It?
With Thanksgiving occupying our minds and Chuck on hiatus for a couple of weeks, this giveaway will last 3 weeks instead of 1, giving you plenty of time to enter. Just follow the instructions below for your chance to bestellen levitra online win.
Fill out the more buy generic levitra europe form below and click Submit;
Entries must be received by 11:59PM Pacific on Thursday, December 8, 2011, to be eligible;
One entry per person – duplicates will be deleted;
We will draw one (1) winner randomly from all eligible entries and notify them via email;
This giveaway is open to Chucksters around the world!
**This contest has ended. Congratulations to our winner, Ramon R.**