With the holidays upon us, it's time to celebrate and we're doing that by giving away more Chuck Comic Con goodies! This week's prize pack is designed to be either a reward for all of your generosity to others this season or a gift for a Chuckster in your life. We're helpful that way.
Prize – Week 4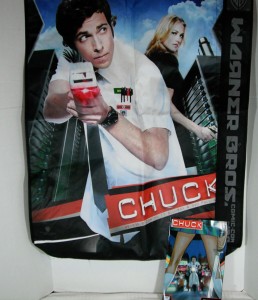 This prize pack consists of a Chuck comic book from Comic Con 2008 and a giant Chuck bag from Comic Con 2009 (the other side features The Big Bang Theory). The comic book is part of that [easyazon-link asin="1401223699″]6-issue set[/easyazon-link] that was printed between seasons 1 and 2; the giant (approximately 2′ x 3′) bag is one of the most coveted items at Comic Con every year.
Want It?
With Thanksgiving occupying our minds and Chuck on hiatus for a couple of weeks, this giveaway will last 3 weeks instead of 1, giving you plenty of time to enter. Just follow the instructions below for your chance to win.
Fill out the form below and click Submit;
Entries must be received by 11:59PM Pacific on Thursday, December 8, 2011, to be eligible;
One entry per person – duplicates will be deleted;
We will draw one (1) winner randomly from all eligible entries and notify them via email;
This giveaway is open to Chucksters around the world!
**This contest has ended. Congratulations to our winner, Ramon R.**