I almost didn't post this because I know some people are on the brink of spiraling into the depths of despair already, stressing over how Chuck will end. But we have a history of posting legitimate news and information around here, and TV Guide is about as legit as it gets, so here goes.
But first, a reminder: As Adam Baldwin reminded reporters during the set visit on the second to last day of shooting when asked about how the show will end, "Chuck is a comedy." I've been told by multiple sources, including someone who just watched the finale yesterday, that it's a satisfying ending that will make us proud to be Chuck fans. And that we'll cry. But mostly that it's satisfying.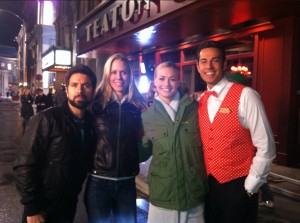 From this week's issue of TV Guide Magazine, here are some excerpts from their report from the second to last day of filming:
"We were all feeling a great big bag of emotions heading into this season, knowing it would be our last, and it's only gotten worse – there's real mourning oging on here," says star Zachary Levi in between takes of a blazing gun battle on the backlot at Universal Studios. His character, computer geek-turned-spy Chuck Bartowski, and wife Sarah have racked the show's final big baddie, Nicholas Quinn, to the local Weinerlicious in Berlin. 
…
It doesn't help that the finale itself is packed with trauma and heartache. "It involves the very breakdown of the Chuck and Sarah relationship," reveals Strahovski. "It's just awful because they've become such a fun, loving, 'Mr. and Mrs. Smith'-type couple. The last episode very much asks: Will they or won't they make it?"
Surely the writers wont' tick off the fans by ending things with a Bartowski bust-up..uh, would they? "It's not our intent to have the audience coming after us with pitchforks and torches," says executive producer Chris Fedak. "But we wanted a finale that was perilous and scary, and not just in a spy-mission sort of way. Everything Chuck has achieved in the last five seasons will be in jeopardy. There is much more to worry about in the last two episodes than whether or not everyone makes it out alive."
(Read the full article in the January 23 issue of TV Guide.)
I know this creates rivers of dread in many a Chuckster's heart. The "not knowing" how it's going to end has many on edge, and fear of something just like what's teased above – that Chuck and Sarah won't be together in the end – will (and has) elicited many "this will ruin the show/last 5 years of my life/my life" comments. But please remember, again, for all its twists and turns and cliffhangers, Chuck is ultimately hopeful. It's ultimately about the guy who got the girl he never thought he'd have. This is Chuck's final battle and everything he has is at risk. Everything.
But, again, Chuck is about hope.
So…have at it.
(And watch for our on-set interviews coming next week!)
Updated: Added a behind the scenes photo of Yvonne and Zac in their Berlin Wienerlicious costumes with Josh and Alisa Hensley (Yvonne's stunt double). Photo courtesy of Alisa.