Mark Christopher Lawrence is back on stage in a production of A Raisin in the Sun at San Diego's Moxie Theatre through March 4. The U-T San Diego gave the production rave reviews, specifically citing Mark's performance: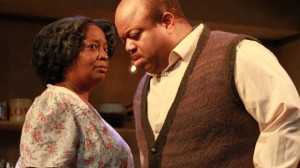 "Mark Christopher Lawrence, best known for his previous role in the TV series "Chuck," played Walter, the wantrepreneur who just can't seem to get things right for his family. Lawrence blended strength and fragility so effectively they balanced out into a perfect cocktail of ambition. When he got down on his knees in the second act, the energy between the stage and audience was palpable."
Tickets are a very affordable $20-$27, with a special "pay what you can" performance on February 13. For more information or to purchase tickets, visit the Moxie Theatre website.