Following the series finale of Chuck, we launched our fourth Chuck Fan Survey to gather quantitative data in addition to the qualitative (comments left on the site, in the forum, emails, etc.) about the final episodes, season 5, and the entire series.
The Chuck Fan Survey is, obviously, representative of online fan opinions, meaning those Chuck fans who are seek out Chuck fansites for information and discussion. We structured this survey similarly to the first 3 in order to provide valid data for comparison. The previous survey results are available here: survey 1.0, survey 2.0, survey 3.0
General Overview
4,103 people took the survey, compared to 2,131 in May 2011. This represents about 4% of the average visitors per month to ChuckTV.net during season 5 (around 102,000/mo – forum visitors not included), by far the highest percentage ever.
Of those 4,131 people, 68.7% were male and 31.3% were female, representing a higher number of males than in previous polls. The results do consistently show that Chuck skews more male than female, however, in keeping with previous results and NBC's ratings data.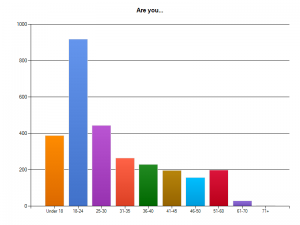 The age breakdown shows some fluctuation, probably because time marches on and birthdays insist on appearing with alarming regularity. As in previous years, the 18-24 demographic were most represented with 32.5% of respondents falling into that age range. Another 15.7% were 25-30 and 13.7% were under 18, meaning 61.9% of those polled were 30 or younger. This is down one percentage point from 62.9% in May 2011. Rounding out the demographic data, 9.4% were 31-35, 8.1% were 36-40, 6.9% were 41-45, 5.5% were 46-50, 7.1% were 51-60, 1% were 61-70, and a lone respondent – representing 0.0% of the total – was over 71 years old. Of those age ranges, all of them saw percentage increases of May 2011′s numbers except the 41-45 demo which dropped 0.9%. What does this tell us? The (online) Chuck fanbase is aging. Stupid birthdays!
We again note that because this is an online survey, on a fansite, the odds of reaching older viewers is much lower than reaching younger.
Not every person answered every question, but the bulk of respondents did complete the survey with the exception of the addendum to Question 7 which was added a few days after the main survey was posted. Each question except Question 6 was restricted to one answer per respondent. Click the charts to see larger versions.
Question 1: Which element of Chuck is the main reason you watch?
On a show like Chuck that combines action, romance, drama, comedy, and more pop culture references than the number of licks it takes to get to the middle of a Tootsie Pop, a consistent debate within the fandom is what the main focus of the show is or should be. After five years of debates, it's interesting to see quantitative data measuring such a subjective item.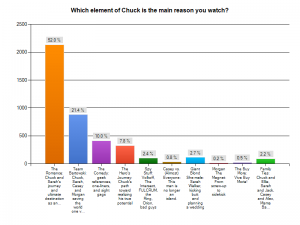 In a season that featured Chuck and Sarah as Mr. & Mrs. Bartowski, it isn't surprising that their relationship was the most popular element for fans, but by a whopping 52%? That is a surprise! In May 2011, The Romance was on top but with just 37.9% of the votes. Impressive, Bartowskis! Team Bartowski was in second place with 21.4% (down from 31%), The Comedy once again came in third with 10% (down from 10.4%), and The Hero's Journey was in fourth place with 7.8% (up from 6.9%).
Those four elements have been the top four in all of our surveys, which gives us a strong indication of what fans looked for the most: the Chuck and Sarah relationship, Team Bartowski, comedy, and Chuck's journey.
The least popular elements of the show this year were, once again, The Buy More with .5% (up from .4%) and Morgan the Magnet with .2% (down from .5%).
Question 2: Rank the various elements of Chuck by MOST favorite to LEAST favorite.
We know you don't like being forced to rank the elements, but these kinds of questions reveal even more about what fans think of the different elements of the show. Answers were restricted so only one could be ranked at 10 (MOST favorite), one at 9, etc. The results fall in line with Question 1, but show some movement compared to May 2011.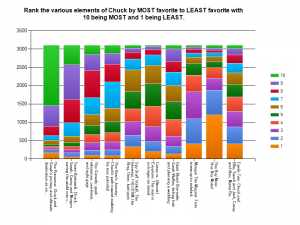 Reflecting Question 1's results, The Romance was again most popular with 53% of the votes for MOST favorite (10 ranking). Team Bartowski came in a strong second with 30.9% of the 9 rank votes, but votes for Team Bartowski as most favorite (10) fell from 25.3% to 17.1%. You guys really, really like Chuck & Sarah! Coming in third and fourth, respectively, were The Comedy and The Hero's Journey, again matching Question 1.
Your least favorite elements were Morgan the Magnet, Family Ties, and The Buy More which garnered 38.7% of the LEAST favorite (1 ranking) votes. At least that's better than last year when The Buy More received 48.4% of the least favorite votes. Yay customer service?
Question 3: Rank these season 5 developments in order of MOST favorite to LEAST favorite.
Chuck's final season was a short one that was more about wrapping up storylines than creating big new developments, but we still had a fair number of revelations and events to absorb on our way to the finale. This question was another one where you were required to rank choices from LEAST favorite (1) to MOST favorite (10).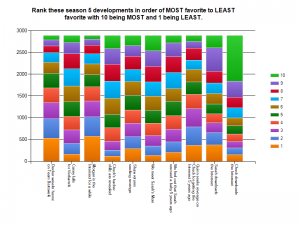 Your favorite season 5 development was Chuck downloading the Intersect with 36.3% of you marking it your top choice. After that definitive pronouncement, the results get a little murky as elements ended up in ties based on percentages which were unequal. Confused? You can examine the chart for clarity, but suffice to say, you really liked Sarah downloading the Intersect and meeting Sarah's mom, and you liked Casey falling for Verbanski, discovering Chuck's mad hacker skillz, and the flashback to Sarah rescuing a baby.
What's more clear is what you did not like. Namely, Morgan having the Intersect and Decker going after Team Bartowski. Both ranked at the bottom of the list, with Quinn seeking revenge on Chuck also on your list of Things We Didn't Like. Even Shaw's return ranked better!
Question 4: Who do you think exhibited the best character development over the course of the series?
Shifting our focus from season 5 to the series as a whole, we wondered, now that we'd watched these characters for five years, who did you think experienced the best character development? The options were only those who had been on the show since the pilot, to even the odds a bit.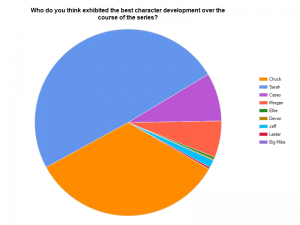 Given the outcry over the finale, we were a little surprised when 49.4% of you voted for Sarah as the one who exhibited the best character development. The question included the final two episodes, so it would appear that the majority of fans still found Sarah's story to be the most compelling over the course of five seasons. Chuck was second with 33.7% of the vote and Casey was a distant third with 8.3%.
The characters you felt had the least development were Big Mike (0.0%), Devon (0.2%), and Lester (0.3%). Jeff managed to eke out 1.3% of the votes, most likely thanks to his transformation after he quit sleeping in his van.
Question 5: Rank the "goodbyes" in the series finale in order of MOST favorite to LEAST favorite.
From broad to narrow, next we focused on the final episode of Chuck. And we made it a ranking question. You're welcome. This question had seven options, so MOST favorite was 7 and LEAST favorite was 1.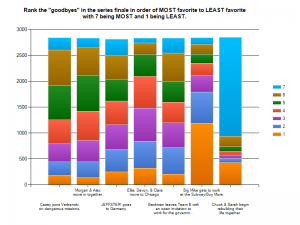 Chuck & Sarah beginning to rebuild their life together took the top spot by a landslide, receiving 67.1% of the top votes. Tied for second were Casey joining Verbanski on dangerous missions (24%) and Beckman leaving the option open for Team Bartowski to work for her again (19.3%). (Again, these two elements tied based on their highest votes individually, meaning they received more '6' votes than any other rank.) You also really liked that Morgan & Alex moved in together. Awww.
Your least favorite "goodbye" was Big Mike continuing to work at the Buy More/Subway. At least he has sandwiches to comfort him.
Question 6: Which moments from the series finale ("Chuck vs. the Goodbye") are your favorites?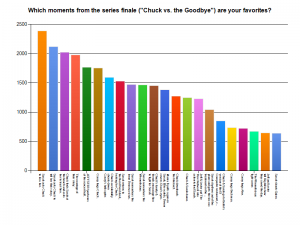 With so many callbacks and Easter eggs and shoutouts, we wondered, what were your favorite moments in the series finale? This question allowed multiple answers, and boy did you have fun clicking them! There were nearly 30,000 responses given to this question as you chose the moments that meant the most.
The top 4 favorite moments were the final scene on the beach. Sarah asking Chuck to kiss her received the most votes (84.4%), followed by Sarah asking Chuck to tell her their story (74.7%), Chuck finding Sarah at the beach (71.4%), and the montage of the Chuck & Sarah story (69.8%). What a bunch of romantics we are.
Also popular were JEFFSTER's performance in the concert hall (62.3%) and Casey hugging Chuck as he left Castle (62%).
7. What did you think of the Chuck series finale ("Chuck vs. the Goodbye")?
As the very last episode of the series, "Chuck vs. the Goodbye" proved to be rather polarizing. We had already planned to ask this question, but a few days after the episode aired, we decided to create an additional question based on fan reaction (see 7a below).
But first, the results of this question. The majority of respondents (34.5%) said that they loved it with another 27.8% saying that while they had a couple of quibbles, overall they liked the finale. Another 26.2% chose the more neutral option, indicating that while the series didn't end the way that they wanted it to, they could accept it.
In the negative column, 6.9% didn't like "Chuck vs. the Goodbye", but said they'd still watch other episodes while 4.7% outright hated the finale and said it ruined the entire series for them.
Question 7a: What did you think of the final scene in "Chuck vs. the Goodbye"?
In deference to those who said that Question 7 didn't allow them to truly express their feelings about the finale – several emailed us to say that their opinion of the episode overall was different than their opinion of the final scene – we added this question about four days after the survey was launched. Although many had already taken the main survey, this addendum still received 2,548 responses, proving what a hot topic it was.

The results do still match up pretty closely to the original question, however. The most votes went to the Too Ambiguous option with 30%, which coincides closely with the more neutral option in Question 7 that received 26.2% of the votes. In second place with 27% was Liked It and in third with 21% was Loved It. Not too far off from the numbers above, although obviously "Loved It" and "Too Ambiguous" swapped places in this question.
Again bringing up the rear were the negative opinions with Awful receiving 4% of the votes and Hated It getting 3%. Those results are on par with the results in Question 7 as well.
The variations in the results between Question 7 and Question 7a do provide evidence that there are those whose opinion of the finale overall is separate from their opinion of the final scene. Most notably the results suggest that some fans who voted for the two positive and two negative options in Question 7 then clarified their opinion by choosing the Too Ambiguous option in Question 7a.
Question 8: Which season of Chuck is your favorite?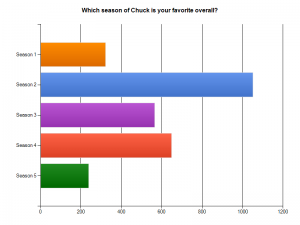 Back to the broad overview! This time we wondered, looking back over all 5 seasons of Chuck, which did you like the most?
Season 2 was the winner here with 37.2% of the votes, followed by season 4 (23%) and, surprise!, season 3 outranked seasons 1 and 5 combined with 20% of the vote. Maybe Shaw wasn't so bad after all.
Season 5 ranked as least favorite with 8.4% while season 1 wasn't that much higher, receiving just 11.4% of your votes. No love for Chuck's "animal shapes" hair?
Question 9: Do you want to see Chuck continue in another medium?
Looking ahead, and knowing that most fans wanted more Chuck – indeed, many were already seeking to campaign for more – we wondered how you wanted Chuck to continue.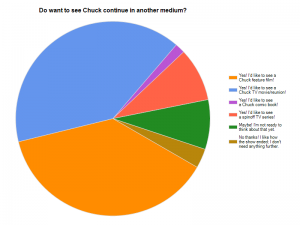 The majority of fans want a Chuck TV movie or reunion (40.1%) with the idea of a Chuck feature film coming in a close second (37.8%). Some of you (8.9%) are interested in a spinoff TV series, but about the same number (8.3%) aren't ready to think about options for more Chuck yet. A handful (3.2%) are happy with how the show ended and don't need it to continue, and just a few (1.7%) thought a comic book was the way to go.
We did hear from several of you that you would have liked to be able to choose more than one option on this question, but the purpose was to see which single medium had the most support & interest from Chuck fans.
Conclusions
So what does all this data mean? It means that we loved Chuck & Sarah together, we thought Sarah's character development was great, we liked the series finale but thought the ending could have been more definitive, and we'd like to see more Chuck in our future.
It also means that Chuck fans are a diverse and opinionated bunch. With that in mind, as you take to the comments section to discuss these results, please remember our rules and guidelines and be excellent to each other.
This survey was conducted by ChuckTV.net and measured opinions of fans who visit our site. It was not endorsed, sponsored, or affiliated with NBC, College Hill, Wonderland Sound and Vision, or anyone associated with Chuck.