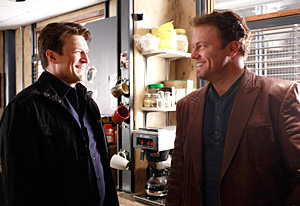 Adam Baldwin guest stars on the April 16 episode of Castle, and TV Guide has our first look at the reunion with Nathan Fillion. The former Firefly co-stars reminisced about the show, and the props they swiped after it was cancelled, and teased a little about Adam's role on Castle.
"It's flipped," explains Adam. "Nathan's the dumb one this time."
"Yup," echoes Nathan. "Adam's in control, pulling the strings and I'm tagging along in the dark."
Read more, including the Firefly-reunion idea Nathan has been pitching, at TVGuide.com and in the new issue of TV Guide Magazine.