Vik Sahay has been in Romania on a "top secret" project for a couple of weeks, but now the news is out: he's been cast as one of the leads in werewolf movie WER opposite AJ Cook, Sebastian Roche, and Simon Quarterman.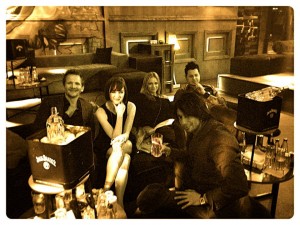 Vik is playing Eric Sarin, a member of an investigative team looking into the murder of an American family in Paris. In a statement about taking on the role, Vik mentioned that he'd been offered a pilot but chose to work on this movie because he hasn't done much horror  before.
WER is currently filming in Romania; no word on a release date yet. The photo at right is from Vik's Facebook page and shows him with Sebastian Roche, producer Lauren Smith, AJ Cook, and prosthetics whiz Robert Hall.