Proving that the "Buy More" reference in the new season of Leverage is more than just a fluke, today we got word that Adam Baldwin will guest star in an episode of the TNT series with a possibility that his role would be recurring.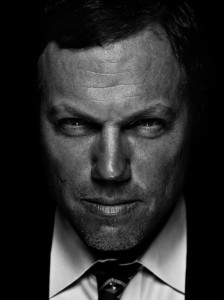 According to TV Guide, Adam will appear as Col. Michael Vance, an ex-Army Ranger who is now in charge of a government counter-terrorism unit. The Colonel (yep, still a Colonel) tends to think outside the box, however, frequently recruiting small teams of agents — and even civilians — who demonstrate the expertise he needs for a mission. I can see why the Leverage team lands on his radar.
It will be quite a reunion for Adam, who appeared in Ordinary People with Leverage lead Timothy Hutton, co-starred in Angel with Christian Kane, and has appeared in two movies  for Leverage producer Dean Devlin.
Leverage kicks off its new season on Sunday, July 15 at 8/7c on TNT. However, Adam's episode, "The Rundown Job," won't air until autumn.