We've had to keep this bit of news under wraps for a few weeks because CBS was feeling secretive, but now the cat's out of the bag: Vik Sahay guest stars in next week's episode of NCIS, the number one drama on TV!
Vik plays "Ajay Khan", a renowned hacker that the NCIS team will try to take down as they believe he has ties to the most wanted cyber terrorist in the world. Check out the promo and tell me you aren't worried about Vik's fate!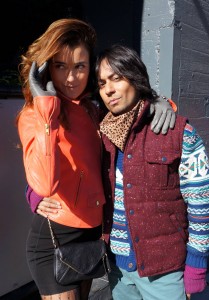 The episode, titled "Canary", was shot earlier this month and Vik sent us this behind the scenes shot of himself and NCIS star Cote De Pablo (aka Ziva) to share. #1: Adorable. #2: WHAT is she wearing?!?
Vik was very excited about the fact that he nailed that audition only three days into the new year. Off to a fantastic start and hopefully a sign for more great things to come. In addition to a significant role on a hit show, Vik is also celebrating the news that his Canadian pilot, Satisfaction, was picked up to series by CTV. His guest-starring role on Fox's series Bones aired Monday night to great reviews and the sex comedy An Awkward Sexual Adventure, which won several awards in Canada and was one of the Top 10 TIFF features, premiered on January 25 at the Santa Barbara International Film Festival and turns out to be one of the most buzzed about films at the festival. Watch for it to land in selected theaters and on-demand in March. The horror movie WER is also coming to theaters this year, although the exact date is TBA.
Looking ahead to these new roles, Vik had words of thanks for fans of Chuck, "I was going through my gargantuan piles of unsorted papers, and I came across the medical forms from when I broke my finger on one of the last episodes of Chuck I had  filmed. Not that anyone's been anxiously waiting for an update, but that fingernail fell off, and has grown back.  Here we are in January 2013 — crazy the year went by so fast — and it seems I've grown not only a new fingernail, but some new roles, as well. I am elated  that so many people tuned into Bones because they saw that I had a guest starring role on it. My guest starring role on NCIS will be even juicier and I can't wait for you all to see it.  As these new characters and new sets mark degrees of separation between me and the Chuck years, I'm still blown away by the passion that Chuck fans showed to that young, fragile, blackened fingernail named Lester Patel."
Vik's NCIS episode "Canary" airs Tuesday, February 5 on CBS.