You guys like spies, right? And strong female characters? And comic book style action? And steampunk? Because we've just had word about a very cool new project in the works that involves all of the above plus Chuck composer Tim Jones at the musical helm.
Filmmaker and science fiction fan Kendrick Wallace is developing The Amazing Adventures of Victoria Clarke, a feature film with supporting web episodes, a graphic novel and a mobile-platform video game. The project is the stylish and exciting story of the exploits of a female British agent, Victoria Clarke, living undercover in the United States in the 1920s as a Hollywood actress.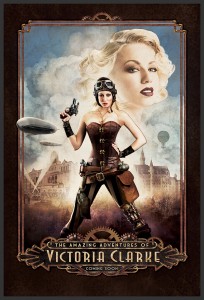 Set pre-WWII, the style is Steampunk – or more precisely, Dieselpunk – and combines history with fantastical machines, characters and events that only exist in the alternative reality of this fictional world. The tone is fun, retro and sexy, and punctuated with periods of intense comic book style action, according to Wallace. He's also aiming for "Raiders of the Lost Ark style action," which I dig.
Fan favorite Tim Jones is on board to score the project, and we all know he'll knock it out of the park. They've also enlisted Clockwork Couture for wardrobe, a shop anyone interested in Steampunk has probably heard of and drooled over, plus artists Terry and Nicole Wolfinger to create the concept art, posters, etc.
Wallace has an Indiegogo campaign set up to raise funds for the development package needed to pitch the project to studios and producers. They're not looking to fund the entire movie, just the pitch to land a production deal. Rewards (in addition to helping the project get made) include concept art, props, scripts, and lots more.
Visit the Victoria Clarke Indiegogo page for more detail, lots of gorgeous artwork, and an opportunity to help make this project a reality.