Yvonne Strahovski is about to break out those "Phase Three" moves! Deadline announced last night that Yvonne will star in the upcoming suspense thriller He's Out There, which is a terrifying title in and of itself.
Per Deadline, Yvonne plays a mother who comes to visit a remote lake house – never a good idea in a "suspense thriller" – and soon finds herself fighting for the lives of herself and her two daughters after falling into a terrifying and bizarre nightmare conceived by a homicidal psychopath. Yvonne! DON'T GO IN THE BASEMENT!
Ah, but the homicidal psychopath didn't count on the Giant Blonde She-Male, the Wonder from Down Under.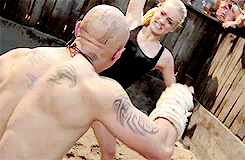 Production on the film begins in July with a likely release in early 2017.