We had the opportunity to participate in a conference call with Chuck executive producers Josh Schwartz and Chris Fedak and star Zachary Levi this afternoon, in which the guys talked about the overall arc of season 3, the plethora of guest stars, how the new Intersect effects Chuck, and major developments for Casey.
The wait to find out if Chuck was being picked up for a third season was touched on, with the producers noting that an interesting by-product of all the drama around the renewal was a ton of additional publcity for the show. They were pleased that the fan campaign coupled with the support from critics so clearly showed that Chuck is well-liked and has a large fanbase. As NBC gears up promotion for Chuck's 2-night, 3-hour return on January 10 and 11, Josh said he was impressed by the amount of promotion and very pleased with the spots that are airing. He called the "No More Mr. Nice Spy" tagline "pithy" and applauded how the promos are giving new viewers an introduction to the show.
Regarding the integration of Subway, now a major sponsor of Chuck, Josh jokes, "The name of the show is now Jared." Fedak brings us back into reality by revealing that we won't see much more than we did last year, and not really until later in the sesaon because production had already begun before the deal with finalized. No one will be working at Subway, clarifies Josh, although they weren't opposed to the idea.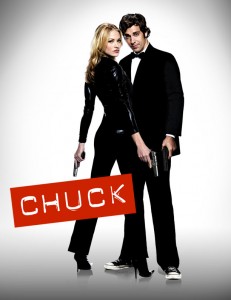 Moving on to the Intersect, Zac is happy that he can fight and be involved in action scenes now after sitting on the sidelines for most of the last two years while Casey and Sarah kicked bad guy butt. Chuck was better at running away or screaming, but now that he has the new Intersect abilities, "he is able to lend a hand in the kick-butt-ary," says Zac. He hastens to reassure fans, however, that Chuck is still the bumbling hero, even with the new skills, and that the Intersect doesn't change the heart of the show.
Declares Zac, "I can guarantee you, I am no Jason Bourne!"
Indeed, the new skills are not guaranteed to work, something of a visual parallel to the evolution of Chuck from boy to man and now many to spy. He may have "infinite abilities" within the Intersect, but it was designed for a cold, emotionless spy like Bryce, says Chris, the acknowledged expert on the Intersect. With the device in the highly emotional Chuck, its stability is definitely in question. Sometimes it works perfectly, sometimes, when he gets frustrated or stressed, it fritzes out.
The Chuck and Sarah relationship was touched on within the context of Chuck acquiring the Intersect 2.0 and becoming a spy. Sarah is very cognizant of the fact that Intersect was designed for an emotionless spy, and that Chuck certainly doesn't fall into that category. She is concerned about Chuck as he tries to become Charles Carmichael. After all, "she fell in love with the guy, not the spy," says Josh.
Zac loves the action scenes, and expresses his gratitude to the stunt coordinator and choreographer for helping make his "lankitude" look good on screen. Zac pulled double duty on episode nine this season, serving both as star and director. Which is easier, directing or being a spy?
"Being a director is more challenging than being a spy, because being a spy is completely fictitious," he reveals. But seriously, Chuck is a challenging show to direct because it's "a cornucopia of genres," embracing so many elements that even seasoned directors agree it's complicated. Judging by the number of excellent directors the show has, however, it sounds like the reward is worth it. Zac says that while there were a couple of times when he was completely overwhelmed, "Overall it was just the most incredible experience. I'm happy to be through it and done with it and I'm really happy with the end product."
Josh and Chris agree that the episode he directed was a challenge. "We purposely gave him one of the most important episodes of the series," says Josh. "We did him no favors," chuckles Chris.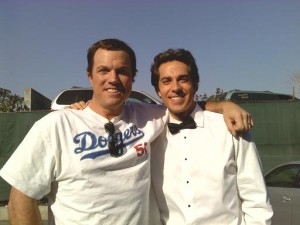 Moving back to storylines, the producers revealed that Adam Baldwin is going to have a lot to do when a secret from Casey's past catches up with him. The reprecussions of this secret coming to light will impact the entire team. It's not just the past Casey is dealing with, though, it's also the future. "I think a lot of the friction [for Casey] this year is actually going to come at the Buy More, where he's going to be given more responsibility," Josh says. "Without giving too much away, he finds the Buy More to be potentially his future."
How will the Buy Morians react to that, we wonder. What else is coming up at the Buy More? Expect more Jeffster, plus Vik Sahay has a Buy More/Fight Club storyline where "Lester really goes bananas." Speaking of Lester, we'll also see his bedroom, and his pj's. "You will see what Lester sleeps in. It involves feet," deadpans Chris. The Buy More will always be a "dysfunctional hot bed of competing personalities," say the producers. Jeff is weirder, if you can imagine that, while cutbacks and attempted management overthrows keep things busy. There's also possibly a new assistant manager – someone from the show – and Hannah (Kristin Kreuk) is a Nerd Herder, complete with uniform.
The producers did not reveal much about upcoming guest stars Brandon Routh or Kristin Kreuk. On Routh, Josh said that he's a "mysterious hotshot" being asked to lead Team Bartowski, resulting in some friction with Casey. They were more inclined to talk about the other guest stars, noting that because people like Angie Harmon and Vinnie Jones come in for just one episode, they don't have time to go deep into the character's past, so they choose actors who make an impression quickly. Think of it as sort of a visual shorthand to make up for time constraints. Both Chris and Josh are delight with Armand Assante as the dictator in episode 3.03. He is "hilarious," says Josh. Chris agrees, "If you're trying to cast a dictator, Armand Assante is the perfect guy!"
We will see more of the Chuck/Morgan bromance this season, after it was set aside for much of season 2. Morgan moves in with Chuck after the newlywed Awesomes get their own place (across the courtyard), giving the boys a bachelor pad at last. Unfortunately, liveing together ends up being a strain on the bromance because now that he's around all the time, Morgan can see how absent his friend, and their friendship, are. Zac says this will come to a head "in a big way, in an exciting way" this season.
And finally, someone asked about the graphic novels from season one. The producers said that they were an exercise in "if we had $200 million to spend on Chuck, what would we do?" They'd love to do another one, if they can get "that diva Zev Borow" on board, they joke.
Chuck season 3 premieres Sunday, January 10 at 9/8c with two episodes back-to-back, then moves to its regular night and time Monday, January 11 at 8/7c.