A Chuck convention experience pretty much defies description. The cast and creative team are always incredibly entertaining and mingling with other Chuck fans promotes a lovely sense of community. I wondered how they'd top last year's JEFFSTER! appearance at Comic Con, but they did it. This year at WonderCon, the 2000 or so Chuck fans in attendance got to see what was originally the season 3 finale, "Chuck vs. the Other Guy", a day before it aired on NBC, and it was amazing.
We've been asked not to spoil anything, simply to spread the word that tomorrow's episode is a must see, and that I can say without equivocation. Action? Check. Humor? Check. Drama? Check. Romance? Check. It's a Chuck episode that will not be watched passively. There will be cheering and awwwing and chortles and guffaws and YEAHS! and OMGs! aplenty. Even if you watch it by yourself. But you know what? Zachary Levi told us that the next episode, "Chuck vs. the Honeymooners", is even better. The two week hiatus is going to be torture!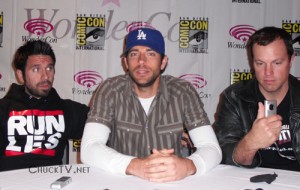 Now that the episode talk is out of the way, how about a report on the rest of the Chuck goodness today? Warner Bros. invited me to cover the press room and interview Chris Fedak, Zachary Levi, Joshua Gomez and Adam Baldwin, which is always a treat. We'll have the videos up in our next podcast, so let me just hit some of the highlights.
Adam was engaging in technology along with the rest of us, filming and taking photos with his phone.
Zac revealed that they get a NO SPOILERS warning on every script, and for the finale they didn't even get the last four pages until right before filming.
Addressing the fans who were upset with some of what happened earlier this season, Zac once again promised that it would all make sense. He can relate, as a fan of Lost. By the way, Zac is a Jack/Kate 'shipper.
We informed Zac that "Charah" is totally passe and now it's "Walkertowski." 'Shipper duty done.
Adam joked that Casey and Sarah might share an air-kiss, then confessed that he actually hugs "others". Josh then admitted that there is an "indavertent embrace", which Zac had to top by reminding everyone that he's kissed Adam. Good times.
There was some sweet discussion about Chuck's place in pop culture and the show's legacy. Josh said that when he gets recognized, it's always with "joy", not just "oh, that guy's on TV", which clearly touched him.
Zac made Adam blush by telling him he looked good in a "Big Mike" suit.
Adam's niche is the "funny thug."
Chris said that the first 13 episodes this season were really about the Chuck/Sarah relationship. The back 6 episodes will focus more on the spy stuff and the Bartowski family.
Asked if the finale was written as a season finale or a series finale, Chris said he likes to write a finale "as a prologue, not an epilogue." In other words, he wants the story to continue off screen, even if we don't get to see it.
Because they already had one season finale (3.13) written before learning that they had another six episodes, they essentially got to have two season finales in one season. Chris reiterated that no one is safe.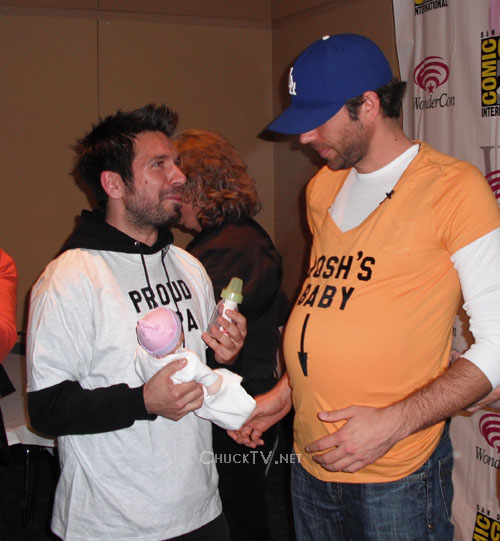 After talking to us, the guys headed to another part of the room where the camera crews were set up for some of the bigger shows, like E! News. Thanks to Zac's publicist, I was able to stick around and get some cool soundbytes for Chuck: Declassified, and see Zac strap on a pregnancy pad. Yeah, the gag he started about having Josh Gomez's baby to get a fourth season? They're working that and it is hilarious! Video should be forthcoming from E!, but I also snagged a photo and some video of them goofing off (and Adam Baldwin filming it himself).
Following the screening of episode 3.13 (again, WATCH IT!), the guys all came out on stage to talk about the show and answer some questions. Because we'd just seen the episode, there are some spoilers in the discussion so the video will have to be embargoed until Tuesday. Here are some non-spoilery highlights:
The inevitable "tell us about pranks on set" question came up, which Josh answered with, "I play the prank where I pretend I don't know my lines." Adam said that Yvonne's prank "is flatulence," which brought a lot of laughs. Somehow that led to a discussion of the book Everyone Poops. Seriously, these things are indescribable!
An old friend of Zac's was in the audience, so they had a nice catch up moment.
Chris clarified that they had already written the first 13 episodes before they got the order for the back six.
Josh Gomez got huge cheers from the beginning, and many hurrahs for the progression of his character this season. This led to some funny stuff between him and Adam, including a little cuddling, resulting in a new 'ship – Morgasey. Or Corgan.
Josh Schwartz said they warned Brandon Routh before he even signed on for the role of Shaw to beware the wrath of the fans.
Josh Schwartz and Chris both acknowledged the fan upset about "Chuck vs. the Mask."
Zac reminded us to watch Chuck LIVE. He then suggested that perhaps we need to figure out how to hack Nielsen.
Nathan Fillion is not guest starring. Yet.
Speaking of guest stars, Zac and Josh totally flipped out about Christopher Lloyd coming on the show (episode 3.16). Zac "may or may not call him 'Doc' in the episode."
The return of Julia Ling brought many cheers. Josh feigned hurt, "She broke my heart!"
Asked if Casey will return to his fiancee and daughter, Adam tried to sidestep it by saying that often characters brought in so significantly do have some sort of resolution. "Plus we already shot that." Sneaky!
Good times, as usual. Keep an eye out for more from WonderCon this week, including videos from the press room and the panel.