Written by Craig DiGregorio
Directed by John Scott
You have to hand it to the creative team at Chuck. The amount of material, and characters they can stuff into an episode is staggering. Sometimes overwhelmingly so. The question becomes then, are the results worth it? More often than not they are.
Alas, this is not one of those times.
What hurts here is that Chuck Vs The Aisle of Terror is so close to pulling it off but one section is so constrained by the dictum of fitting in the rest of the story that it snatches greatness from the jaws of the tolerable. Inevitably shows crib from themselves; recycling story elements because of the restrictions of the world that has been built. Not necessarily a bad thing if new twists are put on them. But when the show reuses scenarios that irked the first time, well, each of us has our own tolerance level for these types of things. Mine, for the record, is low.
First the good stuff. Linda Hamilton still has the ability to dominate the screen with the intensity of her personae. Her initial meeting and stand off with Sarah Walker is a moment of great tension. Not just on the professional level as spies but on the personal one too, as potential mother and daughter – in laws. Right now MamaB occupies that same no man's dramatic land as Sarah Walker did in Season 1. Unsure of MamaB's motivations, it is impossible to get a true read on her. Especially in an episode where she flipped from being bad to good to bad to good to bad…etc. Nevertheless, Linda Hamilton's presence is most welcome and it can be expected the real emotional moments will come to the front once MamaB and Ellie meet. But there was not much of a search for MamaB looking back over the first five episodes.
MamaB's presence is the first adverse relational test Chuck and Sarah have had to face since becoming a real couple. And, as expected, stumbles resulted. Chuck acknowledges MamaB is a blind spot for him and asks Sarah's help. Sarah does so but by the end of the episode she slips back into spy/asset mode with Chuck and proceeds against MamaB unilaterally breaking their personal agreement of, 'No lies. No secrets.' Like with Chuck's actions, Sarah's actions comes from the right place but the means in which they set about doing them are a circumnavigation of the basis of their relationship.
Robert Englund is great in the episode and his scenes via the auspices of the fear toxin are a Halloween/Nightmare On Elm Street, Fright Night of Fun. He also carries himself well as the creepy scientist, Dr. Wheelwright. Casey and Morgan continue to be a joy as spy partners. Still one cannot help for longing for an episode where all four of the Team Bartowski members are working together as a unit or family.
Episode Flashes: Add your own in the comments.
Cool nightmare sequence to open at Volkoff Industries with Wheelwright and Security Guard
Sarah Connor and Freddy Kruger together on the screen
Chuck telling Sarah he has just heard from a ghost ie MamaB
Sarah Vs MamaB standoff – awesomely done! 'Not old. Just slow.'
'Please don't kill each other.' Girlfriend meet future mother-in-law
holographic iPad!!?!? Me wantsies!
MamaB knows all about Charles Carmichael
Casey's, 'You are either exceptionally smart or incredibly stupid.' Morgan's, "My father use to say the same thing!'
CIA coffee mugs!
Chuck's admission MamaB is a blind spot for him
Casey, once again, smells a rat about the latest mission
Chuck and Sarah looking very stylish and hot at the mission buy location
love the Chuck and Sarah banter here about keeping the dress
Morgan's classic Ross & Rachael snipe to Casey
MamaB's footplant Terminator callout as she arrives to crash the mission buy
MamaB's hits, er shoots, Chuck in the heart once again
Casey and Morgan conversing in grunts
Jeff's plea to be able to, 'Sprinkle some dead ones,' ie real bodies throughout the BuyMore. ' There goes my deposit.'
MamaB and her styling Caddy and keeping up appearances
Casey's Crown Vic makes the scene!
'Chuck, how'd you get here?' 'My mom dropped me off.'
Morgan's – 'Bad guys don't make such delicious lemon bars.'
the true weirdness of the, 'Aisle of Terror'
the things Jeff will do for 30 bucks and a sandwich. Actually, even just for a sandwich…
hilarious use of The Nutcracker's, 'Dance of the Sugar Plum Fairies,' inside the Aisle of Terror
the Castle does have a turbolift! Now those big air ducts make sense!
fear effects done Ghosthunters style
Casey and Morgan The Magnet procure the MamaB Intel
HD-DVD players are alive and well at the BuyMore. Now what was that about the BuyMore being obsolete again?
Otters, man feet, and black licorice! (ed. Hey! I love black licorice!)
Sarah clotheslines Wheelwright!
Morgan's modified paint ball gun
Morgan – the Human Target!
Sarah still has the Porsche!
another touching Chuck and Ellie scene
YES! Ellie knows the truth about MamaB!
Everyone puts in an appearance but this time some of it felt contrived. Big Mike's bit seems to be foreshadowing that at some point he and Morgan are about to switch jobs. Morgan Fairchild's appearance was strictly an exposition one to contrast her Honey Woodcombe smothering tendencies against MamaB's non-mothering ones.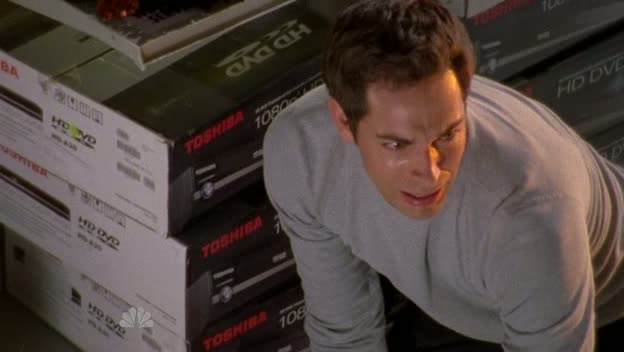 Now back to the part that did not work for me. Remember that painful sequence in Chuck Vs The Mask where Shaw and Sarah accidentally release the gas? Me too. Apparently, the show does not. Chuck gets cut a lot of slack in story logic because the end results are often worth it. Not this time. The reveal that Chuck is afraid of MamaB killing Sarah and him was already shown earlier in the episode. So what is the pay off here? Oh yeah. It ties in with the BuyMore storyline. But at what cost? Standard containment protocols are ignored. Sarah wears a spiffy pair of goggles that look like sunglasses, works in an open environment, etc, etc. The list of aggrievements are endless. Bottom line: Chuck and Sarah get hit with the stupid stick in order to fulfill the need to address the BuyMore storyline and the Halloween theme. Painful to watch and the end results are not worth it. Want proof? Watch the episode without that sequence and the episode works fine.
More than just fine. The rest of the episode is very good.
The conflict between Chuck and Sarah is set up. The setup for conflict is in place at the end of this episode and the fallout from Sarah's and Chuck's actions will keep them apart, even if they quickly reconcile on a personal level, for at least the next episode. Who knows how many beyond the next one?
Ellie now knows MamaB is a spy. How long before Ellie finds out, or figures out, that Chuck is still in the business? Next week we will get some of those questions answered.