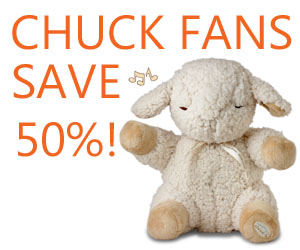 Hey Chuck fans, want to support Chuck and get a great deal? Cloud B, the company who made baby Clara's Sleep Sheep, is offering Chuck fans a 50% discount on the cuddly animal during the month of March! To get this exclusive discount, follow these steps:
Comment on Cloud B's wall that you saw Sleep Sheep on the February 21st episode of Chuck.
Cloud B will send each person who likes and leaves them a message an exclusive 50% discount code off of Sleep Sheep for use on their website.
This offer is only good during the month of March, so take this opportunity to show Cloud B (and NBC) that you notice and appreciate their support of Chuck. Product placement is the a vital part of funding Chuck; we want advertisers and the network to know that fans will respond to that if it means we'll get another season. Also? My Sleep Sheep came this weekend and it's both adorable and soothing. If you have any young'uns in your life, or if you're lacking a good night's sleep yourself, you definitely need to check this out.
Updated 03.08.11: Chuck fan Chad created a small pdf version of the JEFFSTER! logo that you can download, print on transfer paper, and iron on to a baby t-shirt to customize your Sleep Sheep. Download here.