Back in December, on the second-to-last day of filming Chuck, ChuckTV.net was included among a group of reporters invited to the set to talk with the cast about the finale and look back at the previous five seasons. We'll be releasing those interviews this week as we countdown to "Chuck vs. the Goodbye" on January 27.
Our final interview in this series is co-creator and executive producer Chris Fedak. We had a longer interview with him and Adam Baldwin from earlier this week that covered some of the same territory, but here are some other questions and answers with the man who brought us Chuck.
Q: So, it's the last season. If you had another season, Season 6, what stories would you love to tell?
Fedak: Well, I think the way it usually works is when we get to this point in the season, we have a good idea if we're going to be going for another season or not. It's usually been like, "Do we have a chance?" and if we have a chance, that's when I and the writers and Josh sit around and go "What stories do we want to tell?" So we knew pretty early, as the show came out, that this would be the final season. NBC has been very upfront about that. It's been thirteen episodes, so we kind of designed the season to answer a lot of questions and tell the final story. It's been a little different than seasons past, where I have a hole, a backdoor, a secret pocket I can push the story through and find new tales to tell. This is we're very much closing out the Chuck story. We're talking about a big, epic finale, so it's a little different this season. Now, if someone were to say they wanted to do a Chuck movie in the future…
Q: Yeah, I was going to say.
Fedak: That would be awesome, but for the most part, this season, from the get go, has been designed as the finale.
Q: When you say big, epic finale, talk to us about the scope of these last couple of episodes.
Fedak: Well, what you're going to get is…the last three episodes of the season, we just finished the cut on Episode 11, which is "Chuck vs the Bullet Train", which is set on a Japanese bullet train, and the ending is so epic, especially in regards to the emotional ending. It's not just about things exploding, because we've always found on our show that you can have bombs and explosions and a lot of really fun stuff like that, but really, it's the emotions of these characters. We mess with those emotions in such a big, huge, dramatic way in our Episode 11, that tees up the fact that the final two episodes, which will air together as a two-part on one night, that it's going to be not only a huge action adventure, which is here we are. We are doing our big man-who-knew-too-much theatrical set piece here in [frag] for the finale, but we're also going to have huge emotion. Everything's on the line. It's going to be a very…it's really emotional strength that I think we've all found as we've been working on this episode. That it's not just about blowing something up, it's really about where we've taken these characters over five years and how different they are.
Q: I see a lot of crying on Twitter from the cast.
Fedak: There's a lot of crying. Everybody's losing their business every day. It's really been our biggest struggle, just trying to keep it together for one.
Q: Is it Zac?
Fedak: You'd think it would be Zac, but Yvonne has been the weak link this time. We were on set shooting what is the final scene of the series and she was crying. She turns to me and says, "Say something funny." I had to tell her, "Josh handles the funny. I handle the action." They're great and Zac is usually this huge emotional guy. That's been our biggest challenge here, just containing the emotion. Baldwin's fine though. He has no tear ducts.
Q: Going back to the scope of things. Someone was telling us that you had two or three units going last week.
Fedak: Yes, I spent all the money. There will be no extra money that we give back to Warner Bros. after this process. We have essentially blown it out. We have multiple units going on each day, we have set pieces that…we were over at Universal the other night shooting Berlin, so we've gone a little international. Most of the season we've actually kept it pretty domestic. We liked that idea. We liked bringing Chuck back to the States and making the shows a little bit smaller. Now, we're blowing it out. We're going back to the big tradition of Berlin, Japanese bullet trains, but also, our second to last episode is very much an intimate thriller, a lot of very exciting things happening just within our core usual home bases.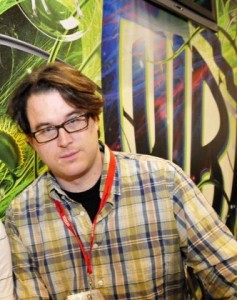 Q: Now, are you purposely trying to make the Chuck fans cry in the last episode?
Fedak: No! That makes me sound like I'm a manipulative asshole. Maybe I am a little bit. We think that this has always been a big emotional show. These characters and Zac and Yvonne and the rest of our cast have brought such, they've made them such human beings, and they're such full characters that I think if this wasn't a tear-filled finale, we wouldn't be doing our job.
Q: What are you going to miss the most?
Fedak: I'll miss everything. It's hard, but I'm not going to lose my shit in front of you guys. I'll miss the entire process. I have the best job in that I get to work on a television show which is wholly unique and strange and weird and wonderful and it gets to be a little bit of everything, so each week, when we start working on a television episode of Chuck, it's going to be different from the last one. We're doing a thriller, we're doing a comedy, we're doing a romance, so I get to do a little bit of everything. I think that's the greatest.
You probably won't be able to work on a show like this in the future, just because it's so unique. And the lucky thing about my position is that I get to do a little bit of everything, except act, thank God. I'm going to miss all of it. The most important thing is the people. I have a great team here. The cast is fantastic, but also the crew that makes this production possible. A lot of television shows, you shoot for the moon and you have a lot of money. We shoot for moon and we don't have all the money in the world and we manage to do it. We still manage to do all those things that you're not supposed to be able to do, from gondolas to Russian fortresses, to blowing up a desert drive-in movie theater.
Q: How call-backy is the finale going to be?
Fedak: It's very call-backy. It's an episode haunted by previous seasons, so you're going to find a lot out about those. In the first half of the night, Episode 12, is very much a contained thriller. Then Episode 13 is…every act will have echoes of past seasons. You'll see how we fold that into the story and the narrative, it all makes a lot of sense. There was something about it where as we were working on the episode in the writers' room, we wanted something that played to the entire show, not just this season.
Q: What is it about Chuck and the cast and you guys that make the fans stick around? It's so enduring.
Fedak: That's a very nice thing to say. For people that love the show, it's a show that people can get very passionate about. Not only do we have a great cast and crew and all that stuff, but it's a show that's very specific. So if you're obsessed about the Chuck show, this is a show that was designed for you. It's got action, it's got music, it's got comedy, and it's also got a sensibility. It's for people who enjoy media, enjoy movies and music. I think if we lock those people in, they stick around. They're very adamant and interactive. We're very interactive. I think in Season 3, Josh and I got in there and we talked to our fans and we listened to them and that's kind of a new thing in this day and age, people that read the blogs and read what people are saying about the show.
Q: Is it for the fans? Is that why you put so many pop culture references in the show?
Fedak: Yeah, it's for the fans and for ourselves. It's kind of what is our obsession? I love references, but I enjoy more the idea of doing something in the vein of. So, if we are going to do 'Murder on the Orient Express' or an Agatha Christi thriller, I have fun to try and see our version of that. That's just the movie nerd in me.
Q: No musical though, right?
Fedak: I promise you, no musical. That's the one thing that we've always said, because we have a very talented…Zac is an amazing singer.
Q: He's an Emmytone for Heaven's sake.
Fedak: He's an Emmytone. He's an amazing singer. But that's always been the one thing, how do we make that work? We've done so many crazy things on the show; we could never quite figure that one out, but it's been on the board a number of times.
Q: It was suggested it at ComicCon like three years ago, or someone shouted it out and you wrote it down. I was waiting.
Fedak: I know. I wrote down all those ideas. I did. I'm pretty much dry. There was a moment where he was going to sing in Costa Gravas, but instead it was like, no, Armand Assante should be singing instead.
Q: I'm really curious. Was the budget bigger this year or did you just find better ways to use the budget that you had, because the production value I think has been amazing this season so far.
Fedak: I think that, not really, no. There's been two points in the show. One, the first two seasons which we made, and then seasons three, four, and five we made in the same world, the same kind of budget for the show. So, we've just gotten better.
Q: If there was ever a Chuck spin-off, which cast member would you want to be in the lead role?
Fedak: That's tough. It's a very loaded question. I love the idea that there could be a spin-off with each one of our cast members, but because you put it to me, I would like to see…I'll wait for you to watch the finale, because there's something that happens in the finale that I feel would be a great spin-off, but it would be a very peculiar television show.
Q: The last scene, how long have you known what it's going to be and how has it changed over the years?
Fedak: It's been in the ether. The shape of that last scene came about at the end of last season. We started working on thinking about Season 5, we kind of came up with the pitch of the show, then we had the shape, and then Josh and I and McG went to NBC and Warner Brothers and pitch them what we wanted to do, and this ending, in one shape or another, was always the kind of ending. It was always where we wanted to go and we knew that was going to be our big final moment. So, it's been a year in the making.
Q: How has it changed?
Fedak: Very little. It's always been the heart of the thing.
Q: So you guys knew you were getting one shot to end it the way you wanted and it was clear as a bell?
Fedak: That was the pitch we had. We said, "Let's go in and let's blow it out." Then NBC picked us up for thirteen. We knew when we had thirteen episodes, we would build it this way.
Q: When I was asking John Schneider about the series ending of Smallville, he told me, "When you're home watching this, you're going to stand up and cheer" and I did. Will I for Chuck?
Fedak: I hope so, but it's also maybe…I think the ending of Smallville, it's a very specific ending for a show that's been promising that for quite some time and that's an awesome moment. It's a little different. Hopefully it's a cheer-worthy moment, but it's also a little different than that.
Q: So knowing that this is it after thirteen, have you guys entirely stopped paying attention to the ratings? Is that something that's off your back entirely?
Fedak: I think we actually just pay attention to the ratings because Warner Bros keeps sending us the emails at 8:15 in the morning, but it's not been the focus. We know what our run is, we know what we're doing, so it has been a little liberating in that sense. But we still look at the ratings.
Q: So would you say that the ending you guys have written is catering to make you guys happy or more towards the fans?
F: Oh, it's both. I think that we're fans of the show. The writing staff specifically, especially when it comes to constructing the ending, we're fans of the show. We watch it. From the get-go, the writers have been trying to entertain ourselves, so we're looking at it from a fan perspective. So it's for everybody. There's got to be a point when you're writing it that you say, "This is the thing we want to do."
Q: What are some of your favorite series endings?
Fedak: Newhart. Newhart's the best ever, but it's also a very different ending. I think that's the best I can think of. There's the snowglobe. We don't want to do the snowglobe.
Q: Sitting at the diner eating onion rings.
Fedak: Sitting at the diner, yeah. I've always loved the secret agent setup, the prisoner ran away, that you can actually do things. That there are maybe other shows out there in the future that you could take those characters in that role. But Newhart's my favorite. The Wire's great.
Q: What's next for you?
Fedak: I don't know. I'm working on a couple of projects. Josh and I are working on a couple of projects together and we'll hopefully see what happens. We have had a great time working on this television show and we have some ideas that are equally as quirky and strange and fun, and hopefully someone will make them into a TV show. We're also working on a movie together.
Q: That's not the big Chuck movie everyone's asking for, is it?
Fedak: No, not yet. We'll have to wait a couple of years on that.
The two-episode Chuck series finale airs Friday, January 27 at 8/7c on NBC.