Die-hard Chuck fans know that showing advertisers that we're paying attention helps our show. The season 2 Finale and a Footlong Campaign, from the mind of fan Wendy Farrington, resulted in Subway becoming a major sponsor in seasons 3 and 4, both with traditional commercials and product placement in the show itself. We've also seen Honda step up with synergistic product placement and ad campaigns, although not as many fans can splash out for big ticket items like that. As we head into renewal season, fans are asking what they can do to show support again. Obviously watching live and participating in the Reward TV questionnaire the day after an episode airs is vital, but could this year's savior be…sheep?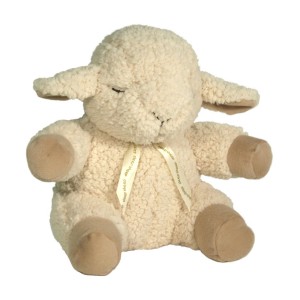 In "Chuck vs. the Masquerade", a subplot involved new parents Ellie and Devon desperate to find something to help Clara stop crying so they could all get some sleep. A trip to their local Buy More yielded the answer: a Sleep Sheep. But did you know that's a real world item? The Sleep Sheep by Cloud b soothes your child into a restful, relaxing nap or night of sleep. This soft and adorable sleep time pal plays calming sounds that help drown out distracting noises and let baby drift into dreams. It's available from Amazon for $19.19 right now, and would make a terrific gift for someone you know with a new baby or for your own child. (JEFFSTER! cover song not included.)
Updated: Sleep Sheep is also available at Barnes & Noble online and in stores, and at Toys R Us online and in stores.
Not only will you give baby and parents the gift of sleep, but you'll send a message to one of Chuck's prominent sponsors that you are willing to put your money where your fandom is!