Earlier this week a box arrived on my doorstep from NBC Universal containing all four of the Chuck collectible figures unveiled recently. (Available for pre-order now with a May 22 ship date.) I'm not a big collector of action figures or figurines, although I do have a large number of Legolas figurines and everyone from [easyazon-link asin="B00062RCC6″]DS9[/easyazon-link] lurking in a closet somewhere, so this isn't Chuck merchandise I'd been pining for someone to create. But create it they did; let's take a look!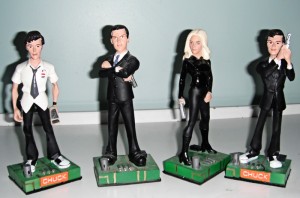 First, no, these are not realistic representations of Zachary Levi, Yvonne Strahovski, or Adam Baldwin (although Casey probably bears the closest resemblance to his real life counterpart). They're clearly not meant to be hyper-realistic, but rather hyper-stylized versions of the characters. My guess is that they were modeled after the [easyazon-link asin="1401223699″]comic book[/easyazon-link] visualization of Chuck, Sarah, and Casey. If that's not your cuppa, then these aren't the droids you're looking for.
The four figures – Chuck Bartowski, Charles Carmichael, John Casey, and Sarah Walker – come in tidy boxes with a photo of the figure on the front and a "profile" on the back. The profiles span all 5 seasons, so, for example, Chuck's references his career working with his "wife and former handler Sarah". Each figure is packed in styrofoam inside the box, plus a protective plastic bag, insuring that they arrived in pristine condition.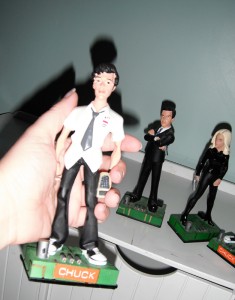 These guys are about 7.5″ tall, including the base, and I believe are made of resin. As I said above, collectible figures aren't really my jam, so I'm not familiar with materials used for these types of products. They're substantial, though, not flimsy plastic. In the photo at left I'm holding Chuck so you can get an idea of scale.
I think these guys are awfully cute, and my nieces fell in love as soon as they saw them. The two oldest have major crushes on Chuck, so it's nice that there's both a Chuck and a Charles to avoid any sibling rivalry. I like the Casey one – you can almost hear him grunting. Sarah is badass, with that tough yet amused expression on her little face. It's interesting that they all have a gun of some sort. Chuck has a price gun and Charles has, I believe, a tranq gun, with Sarah and Casey both wielding the real deal. Chuck's little pocket protector is pretty awesome. And if you notice, Chuck has the season 1 "animal shapes" hair while Charles sports the more tamed style of later seasons.
The bases for the figures are electronic circuit boards, like what was used for the season 1 character photos. Chuck and Charles both have the "CHUCK" label on the base, but Casey and Sarah are unlabeled. Because they're undercover? Because their names aren't Chuck? Obviously there are several logical reasons for not labeling those figures, but it does make them feel somewhat unfinished. Also, it would have been really cool if the designs on the bases had linked up. Like, if you put Chuck next to Sarah, their "circuit boards" would appear to connect.
Overall, I dig these figures. They're fun and kitschy, reminding me of the lighthearted moments from Chuck in general, and season 1 in particular. I'm pretty sure they'll be going to Comic Con with me to be autographed. Want your own? Pre-order from the NBC Universal Store now.
Disclaimer: NBC Universal sent me these figures for review gratis. All opinions, and poorly-lit photos, are my own. Links are non-affiliate.