After thousands of votes and months of villains facing off against villains, we have a clear winner in our Ultimate Chuck Villain Tournament –
Daniel Shaw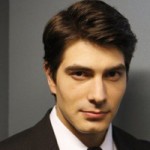 He easily bested all comers in the season 3 rounds, and while there were some solid cases made for villains like Volkoff and Quinn in the final round, Shaw prevailed again with a commanding 46% of the votes. Here's what some of you said about him:
Shaw was a great villain. He wasn't a great character when he was a good guy, but he was the quintessential villain. He had good reason to hate both Chuck and Sarah and I think he had the most compelling character arc of the three involved here. – Claudio
Shaw was bad, bad, and ended badly. Just not a nice person. It's a testament to Brandon Routh as an actor that I will never watch another show/movie that he's in. – Agent52
It is SHAW all the way. Just finished re-watching the series and Shaw makes my blood boil every time I see him. (Good job Brandon Routh!) Pure evil. – Malle
It's Shaw for me. I can't and never will forgive him for killing Steven Bartowski in cold blood. – Liz B
Thanks to all who voted and who passionately stated their case in the comments. Should we do another tournament? What should we vote on?